So 2020 and 2021 events were affected by COVID 19 and the protocols around it. We are hoping that 2022 will be the year when we can starting getting back to normal, or a new normal.
If you attend any of our events in 2022 and have any photographs that we can upload to the site, or any comments then please email webmasterhnlda@gmail.com or send this via our facebook page.
See below some reports and photographs from our 2019 events
Graveley Fruit Farm 28th -30th June 2019
Thank you Bob and Linda Burgess for stewarding ( for the first time) this meet. A total of 12 units turned up for what was a fantastic weekend. The weather was almost too hot and the sun beat down on us for most of the weekend. The fruit farm ran out of ripe fruit on Saturday  afternoon but that did not dull the spirits (both types) over the weekend. A great meet.
Weymouth THS 2019
By Liz Collins – Chief Steward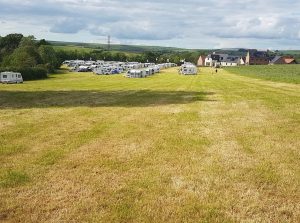 Another successful meet at Weymouth has come to an end.
Three weeks of sun, with the odd rain shower to keep the dust down. As usual there were more than enough willing hands to help put up the party tent enabling us to enjoy some fun evenings with quizzes, dice games and bingo. Also some live music with Sean and Ken entertaining us with their unique style of music and songs.
We had our usual fish and chips evening and this year Reg, one of our campers, played a selection of tunes for us. Also we visit The Swan at Abbotsbury, and after a good meal in the pub, we take over their skittle alley –  you don't need to be an expert or even a novice as I can assure you I have been playing for years and have still not managed to get to grips with the balls, they seem to have a mind of their own.
We had over 100 units join us, a great many of which I count as friends. They've joined us over the years and help make this meet the fun it always is.
We will be at Weymouth next year, so why don't you put the dates in your 2020 diary and join us for fun, laughter and good company.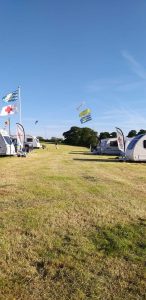 MayDay Hertford 2019
by Gavin Camp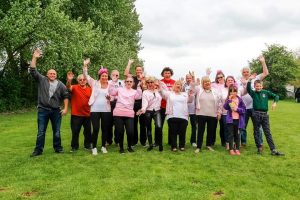 What an amazing weekend was had at Hertford for our MayDay meet.
The theme for this weekend was Grease, with many events and activities planned for the whole weekend.
The weather was a bit wet on the Friday as people arrived but in the end we had over 40 units. Friday nights social plans went slightly off piste as the site experience ongoing power failures, but that did not dull the spirits of the few that remained behind….
Saturday morning the kids, both young and old, were treated to some lovely pancakes that they were able to decorate and eat. There were some very wild creations. Saturday night's social was a big success with lots of people dressing up with our Grease theme, including one group arriving in a homemade car, see pictures below.  "Just for Kicks" entertained us that evening as everyone danced the night away, the band even played on Titanic style when we had a further power failure near the end of their set.
Sunday was a chance for most people to come down and have their breakfast rolls and tea or coffee and a chat about the night before. From 2pm our Rydell High Fair was in full swing with games galore for people to do from the coconut shy to Jacobs ladder. There were lots of balloons and sweets handed out and there was candyfloss, popcorn, fizzy drinks and hot dogs for all.
During the fair the committee put on a dance routine that was loudly cheered on by the watching crowd, everyone that took part did an amazing job.
Sunday evening's social started with a bang, not the power failing again, but a boys vs girls event. After much fun and games the girls won 4-2, the boys just couldn't keep up with them. Congratulations to Julie, Bev and Chris. After this there was a grease themed quiz which 8 teams entered. Well done to team "Dunno" for an impressive performance, winning by more than 7 points.
Monday's coffee morning saw the presentations for all the winners and the raffle, which I disappointingly did not win. The weather had greatly improved as the weekend went on and everyone left exhausted after a great weekend.
A big thank you to our committee and their families for putting on this event, cannot wait to see what they come up with next year.
Some images from weekend are below