Weymouth THS 2019
By Liz Collins – Chief Steward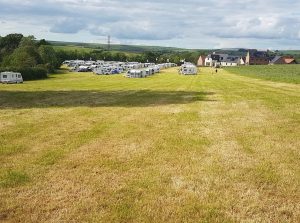 Another successful meet at Weymouth has come to an end.
Three weeks of sun, with the odd rain shower to keep the dust down. As usual there were more than enough willing hands to help put up the party tent enabling us to enjoy some fun evenings with quizzes, dice games and bingo. Also some live music with Sean and Ken entertaining us with their unique style of music and songs.
We had our usual fish and chips evening and this year Reg, one of our campers, played a selection of tunes for us. Also we visit The Swan at Abbotsbury, and after a good meal in the pub, we take over their skittle alley – you don't need to be an expert or even a novice as I can assure you I have been playing for years and have still not managed to get to grips with the balls, they seem to have a mind of their own.
We had over 100 units join us, a great many of which I count as friends. They've joined us over the years and help make this meet the fun it always is.
We will be at Weymouth next year, so why don't you put the dates in your 2020 diary and join us for fun, laughter and good company.